Model form for order withdrawal
Model withdrawal
form Model withdrawal form
Below you will find the model withdrawal form. You only need to fill in and return this form if you want to cancel the (purchase) agreement.
More information about the cancellation of the purchase agreement can be found in the General Terms and Conditions.
________________________________________________________________________
Date, place
To: E. Smid
Marjoleinstraat 82
9731 DB Groningen
info@inmemoriam-decoraties.nl
I / We * share / share * hereby that I / we * our agreement regarding
the sale of the following products: [designation product]*
the delivery of the following digital content: [designation of digital content] *
the provision of the following service: [designation of service] *,
revoked / revoked *
Ordered on * / received on * [date of order with services or receipt with products]
[Name consumer (s)]
[Consumer (s) address]
[Consumer (s) signature] (only if this form is submitted on paper)
* Cross out what does not apply or fill in what applies.
________________________________________________________________________
(The model withdrawal form can also be downloaded here in PDF format)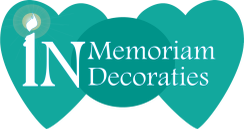 ♥ Veilig betalen
♥ Afterpay mogelijk
♥ Veilige SSL verbinding
♥ Gratis verzending
♥ Afhalen op afspraak
♥ Uniek assortiment