Pick the right size urn
How do I choose the right urn?
There are many factors to consider when selecting a cremation urn for ashes. It is important not to rush. This is one of the last acts of love you can perform for your loved one. The urn contains the last physical earthly elements and is therefore very valuable. If you find it difficult to make a decision about the right urn, it may be wise to consult other family members or a friend. When selecting an urn, most people try to find a style that will remind them of their loved one. Maybe it's the style or maybe the person admired certain materials or had a certain interest in art. But if you choose an urn, you will usually know as soon as you see it. It can also be useful to determine a budget in advance so that a well-considered choice can be made. At In Memoriam decorations we have many styles of cremation urns in various price ranges, so you can choose a valuable urn within your budget.

Why are there different sizes of urns?
Cremation urns come in different sizes for different reasons. Most common is, an individual cremation urn for ashes. The size of an individual cremation urn is suitable for storing the ashes of one person. Sometimes several members of a family / relatives want to keep part of the ashes and the ashes are split into several smaller sized urns, This smaller sized urn is also known as a mini urn or Keepsake. An ash jewelry is the smallest size urn, these are special pieces of jewelry that have an inner chamber where a small part of the ashes can be placed.

Cremation jewelry has become very popular in recent years, the ashes are worn close to the heart and this has a valuable symbolic meaning for many.

The image below shows recommendations for choosing the correct urn size.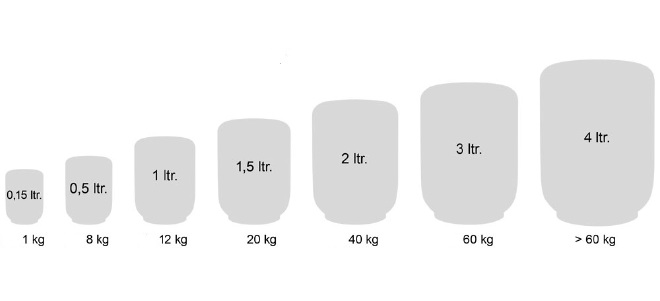 *95 kg-125 kg 5 liter
*125 kg plus 6 liter
**

How much Ash is released after cremation of a loved one (s)?
The amount of ashes of your deceased loved one that is released after the cremation
The average amount of ashes that are released after the cremation of an adult is about 3 to 3.5 liters. The amount of ash depends on the type of wood of the box, the size of the box, the weight of the deceased, the bone structure and whether an object or objects have been placed in the box.

Averages are assumed. You can contact your funeral director or crematorium to request the exact amount of ash.

Filling urns and ashes jewelry yourself is done entirely at your own risk. In Memoriam Decorations provides these recommendations, but is not liable for opening or damaging these items.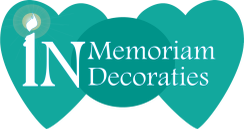 ♥ Veilig betalen
♥ Afterpay mogelijk
♥ Veilige SSL verbinding
♥ Gratis verzending
♥ Afhalen op afspraak
♥ Uniek assortiment