How to fill your cremation jewelry
♥ Filling set Jewelry for ashes
only in combination with an Ash pendant




How do I fill my cremation jewelry?
Filling an ash jewelry isn't difficult, but it can be an emotional act for you.
You can of course always ask someone to support you. Unfortunately, this is not yet possible with us.

Handy to purchase are a mini funnel and a metal jewelry glue. Additional supplies: a teaspoon, a blank white A4 sheet and a soft cloth.
 
The ash jewelry is all provided with a screw mechanism, which can easily be loosened with your fingers.
You start on the white A4 sheet, a teaspoon of ash is enough. Use the funnel to

pour the ash into the ash cavity (if necessary, use a toothpick to make it easier to fill).
After filling, first screw the screw without glue into the hanger, then you can be sure that there is no ash in the thread. Make sure the screw goes straight in.
Take the screw eye out again and put one drop of glue on the inside of the screw hole and not on the screw itself. This prevents a lot of glue from being pushed out. Once the glue has been applied, gently tighten the top. Do not wait too long otherwise the glue will already dry.
Immediately remove the excess adhesive residue with a soft cloth. Do not rub with paper, this will damage the jewelry. Then attach the pendant eye.
The glue must now "cure" for 24 hours before you can start wearing the jewelry! 

Keep a little bit of ashes for theft or loss of your jewelry.



## For an ash jewelry without a screw, the procedure is the same, you can glue the clasp and just keep the ashes in a small bag and tie it shut. ##

Check from time to time if clasp and / or screw.



What should I pay attention to when wearing an ash jewelry?

Prevent the ash jewelery from being damaged by coming into contact with soap and salt residues or cleaning agents. Take off the jewelry before swimming, bathing or showering.

Considerations:

Note: superglue contains cyanoacrylate. Dangerous: Bonds skin and eyelids together within seconds. Keep out of reach of children. If contact with the skin has occurred, avoid forced attempts to remove the adhesive. In such cases, the glue will be repelled by the skin on its own. Then wash the skin with water. If the adhesive has got into the eyes, keep the eyelids open, rinse immediately with water and call a doctor. Separate stuck fingers by soaking well in water and then rolling a pencil between them.

At In Memoriam Decoraties there is no possibility to have your urn or ashes jewelry filled.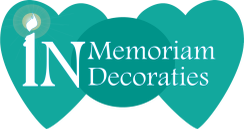 ♥ Veilig betalen
♥ Afterpay mogelijk
♥ Veilige SSL verbinding
♥ Gratis verzending
♥ Afhalen op afspraak
♥ Uniek assortiment