Introduce
Introduce 
Introducing ourself 
Welcome to "In memoriam decorations"
Your webshop for urns, ash jewelry, comfort gifts
and More
"In memoriam" is a Latin concept and means "in memory".
We know from personal experience how important it is to have a symbolic memory of your loved one.
The products offered by us can be a symbolic reminder, perhaps alleviate your suffering or help place your grief in a place.
Although we are a small company, we have a varied range. We therefore offer a full range of ash jewelry, urns, comfort gifts, spiritual items and much more. We are located in Groningen.
If you choose to view an urn, house altar and / or discuss your wishes with us, it is also possiWhen you have selected an Urn, a house altar, a comfort gift or, for example, a jewelery, it can be paid with your trusted payment method. We will then treat your ordered product with great care and ensure that it is delivered to your home in the short term.
We opt for transparency, clarity and fairness to our customers.
In Memoriam Decoraties is affiliated with WebwinkelKeur, a non-profit quality mark for web shops.ble to visit us by appointment.
We do not charge shipping costs, making it clear for you, the purchase price is the total price. We use local offer, from various artists, ceramists and Work-learn activity projects. You will also see various links on our site to projects or people that we think can add something to the range or service offered by us. We are open to your wishes and improvement points of our company.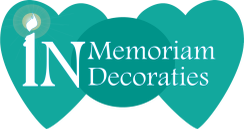 ♥ Veilig betalen
♥ Afterpay mogelijk
♥ Veilige SSL verbinding
♥ Gratis verzending
♥ Afhalen op afspraak
♥ Uniek assortiment