Free delivery (NL)

Rosewood Dog urn with picture frame

Beautiful Rosewood box with room for precious photo

This Bootle urn is handmade using a high quality "Rosewood". This beautiful wooden box urn is solid and has a smooth finish. The urn Box has a photo frame and can be easily…

€ 125,00

Gratis verzending

DOG CREMATION ASHES URN WITH FRAME

Resin dog urn with matching picture frame The Dog resin Urn comes with a matching photo frame. This urn has a pastel finish with embossed dogs and paw prints. Cremation ashes can be safely placed in the urn via a secure bottom…

€ 99,00

Free delivery (NL)

Dog urn memorial house with photo

Urn Memorial house with photo available in 2 colours

The design of this wooden urn is characterized by its simplicity and modern style in combination with remarkable details. The wooden urns are made by hand. You make these urns…

€ 195,00
Dog Urn with picture frame
Special dog urns with space for a precious photo
In Memoriam-Decoraties has a nice collection of animal urns. We consciously opt for a modest collection, because we believe that it is often a jumble of articles, styles and prices. This does not make your search any easier during this already arduous and emotional task. We keep it clear, we deliver quickly if required with filling set and Ash bag (available in various prints and colors) and we deliver for free! If, for example, you have not yet taken the ashes of your dog or cat with you in a "standard" dog or cat urn, you can always ask your pet crematorium what the amount of ashes is. If you have already received a "standard" pet urn, you can easily calculate the content of the "standard" urn yourself.
Weight Content up to 1 kilo 0.15 liters
up to 8 kilos 0.5 liters
up to 12 kilos 1 liter
up to 20 kilos 1.5 liters
up to 40 kilos 2 liters
Up to 60 kilos 3 liters > 60 kilos 4 liters + The above table is based on averages.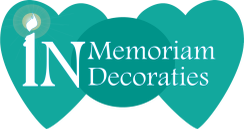 ♥ Veilig betalen
♥ Afterpay mogelijk
♥ Veilige SSL verbinding
♥ Gratis verzending
♥ Afhalen op afspraak
♥ Uniek assortiment