Free delivery (NL)

2D photo in crystal 80 x 110 x 25/10 mm.

2D photo in crystal glass - Ladder shape

AFM. 80 x 110 x 25 / 10 mm (stair model)

Free Shipping

Gift wrapping

Send your photo to us by email and your photo will be lasered into this crystal format.

Of course the photo is made…

€ 69,00

Gratis verzending

2D photo in glass with tea holder

Photo in glass 2D AFM. 60 x 60 x 80 mm

2D version with tea holder

Inside the crystal you can have a photo lasered of a dear person or animal.

Send your photo by email (info@inmemoriam-decoraties.nl) or whatss app to us and the…

€ 54,95 € 49,95

Free delivery (NL)

2D Photo in crystal heart

Superb crystal in the shape of a heart with 2 D photo

SIZE: 100 x 90 x 60 mm

Send your photo to us by email or whatss app. (info@inmemoriam-decoraties.nl)

Of course the photo will be made larger or smaller, so that the photo…

€ 89,95

Free delivery (NL)

2D Photo in Crystal 80 x 15 mm

Faceted cut glass with a 2D image on the base
After sending your photo by email, the photo will be lasered in this format crystal glass. Of course the photo will be made larger or smaller, so that the photo fits in the crystal. In…

€ 49,95 € 44,95

Free delivery (NL)

Photo 2D in crystal glass round

Your precious photo kept forever in 2 D crystal
Dimensions 80 x 75 x 30 mm.
After sending your photo by email, the photo will be lasered into this format crystal glass. Of course the photo will be made larger or smaller, so that…

€ 45,00 € 34,95

Free delivery (NL)

Keyring with 2D photo

Crystal key ring with photo in 2D

A lasting memory for your precious photoDim. 30 x 20 x 15 mm (h x w x d)
The crystal comes in a luxury gift box.
Free ShippingYour photo?
Send your photo to us by email…

€ 19,95

Free delivery (NL)

2D Photo in perfume bottle -A

Your favourite perfume and most precious picture in perfume bottle
Beautiful perfume bottle in which we, can laser a photo or text.
Bottle size: 44 x 30 x 42 mm (w x d x h)
Total height inclusive. Crystal cap: 70 mm
Surface to be…

€ 34,95

Free delivery (NL)

2D Photo in parfume bottle-B

Crystal Perfume bottle with your favourite photo in 2D

The crystal comes in a luxury gift box
∙ Bottle size: 44 x 38 x 42 mm. (w x d x h)
∙ Total height inclusive. Crystal cap: 70 mm.
∙ Surface to be lasered: 20 x 26 mm. (w…

€ 34,95

Free delivery (NL)

2D Photo in perfume bottle -C

Perfume bottle with 2Dphoto and / or text The crystal comes in a luxury gift box.Optionally, it is possible to place the perfume bottle on a plastic tray with mirror and coloured LEDs. The plateau works on 3AAA batteries (3 pieces…

€ 34,95
Your photo in 2d crystal
Lasering your most beautiful photo (s``) in 2D
Your photo 2D lasered in memory in memory
In contrast to engraving, lasering inside the crystal does not damage the outside of the crystal.
The photo "floats" as it were in the crystal and consists of tens of thousands of air bubbles. Lighting makes the crystal stand out even better. This gives a special effect in the evening in particular. Lighting can be ordered as an option.

All our stated prices include VAT and free shipping, no extra costs are charged for editing the photos.
The delivery time is a maximum of 5 working days, rush orders are possible.
Recently it is possible to convert ordinary 2D photos to 3D, which gives an amazing result.
The purchase of a 2D or 3D image in crystal glass is not subject to the right of withdrawal, you cannot use this for this product, unless the product is defective. Because it is made especially for you.
In many cases, you will be presented with a concept first, especially if several photos need to be merged.

After you have placed the order, you can send your clearest photo to info@inmemoriam-decoraties.nl stating your order number. You will then hear from us as soon as possible whether the photo is good enough to use.
Lighting for crystal
Your crystal with a lasered image will come into its own best if you place a lighting


platform underneath. Crystal clear acrylic with an RGB LED strip. (€ -24.90)
With the controller you can obtain any desired color. It is also possible to let the colors run.
The acrylic has almost the same size as the crystal on it, so that it is a beautiful whole.
Thickness of the acrylic is 8 mm. The LED strip is 5 or 10 cm depending on the length of the acrylic.
The minimum size of the acrylic is 5 x 2 cm. It comes with a 230 volt adapter.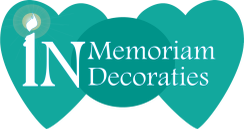 ♥ Veilig betalen
♥ Afterpay mogelijk
♥ Veilige SSL verbinding
♥ Gratis verzending
♥ Afhalen op afspraak
♥ Uniek assortiment