Send and Pick up
Send and pick up ur delivery 
Shipping costs in the Netherlands You do not pay shipping costs for all orders within the Netherlands.
Shipping costs Belgium and Germany? Shipping to Belgium or Germany? For this we ask € -8 as a contribution towards the costs.
Delivery times In general we apply the rule; 'Ordered and paid before 1 p.m. today, also shipped today' (Monday to Friday). Exceptions.
In Memoriam Decoraties tries to have your order delivered to you within 3 working days. This does depend on which payment method you choose and whether the product is in stock. If a product is not in stock or not available, we will inform you as soon as possible whether this is stated with the product. You can then choose whether you want to cancel the order or whether you want to wait for your ordered product.
Deliveries outside the Netherlands are usually delivered within 3-10 working days. It is possible to pick up your order in Groningen yourself. This applies to our urns, mini urns and Ash jewelery. As soon as your order is ready for you, we will contact you by phone or email for an appointment. Please note: the products that are collected must also be ordered via the web shop.
Appointment for Pick up? info@inmemoriam-decoraties.nl
Due to government measures against the corona virus, the number of online orders in the Netherlands and Belgium is currently rising sharply. Due to the large number of orders, the impact of the measures (such as keeping a distance and contactless delivery) and the higher absenteeism due to illness, delays can occur locally in parcel delivery.
** To keep our prices as low as possible and with the environment in mind, we reuse packaging materials for parcel post. Reuse prevents waste, reduces the use of raw materials and saves money and energy. **
Supply to wholesalers and companies Supply to Wholesalers / Companies
Pay attention! This is a web store for consumers and not a wholesaler. Are you a business customer and would you also like to buy (one of) our products? That is possible, please take into account that we fall under the KOR scheme and are not subject to VAT. There will be no VAT amount on the invoice.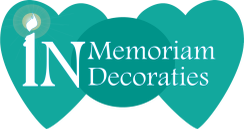 ♥ Veilig betalen
♥ Afterpay mogelijk
♥ Veilige SSL verbinding
♥ Gratis verzending
♥ Afhalen op afspraak
♥ Uniek assortiment